Demi Patterson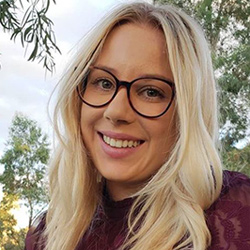 APD (Accredited Practising Dietitian)
AN (Accredited Nutritionist)
AccSD (Accredited Sports Dietitian)
Demi has a strong passion for the importance of adequate nutrition and improving the quality of life and performance of as many individuals as possible. Demi's love of cooking, sports and living a healthy lifestyle have lead to the development of a passion for nutrition and dietetics. Demi has experience in a wide range of areas in dietetics.
Demi Graduated with a Bachelor of Nutrition and Dietetics (Honours) from The University of Newcastle.
Demi commenced her dietetic career working in private practice before moving to work on a phone-based government health program working with individuals who had less access to healthcare. During this time, Demi was able to pursue her passion of sports nutrition and has been involved with several professional teams and individual athletes including the Newcastle Knights, The Australian men's rowing team, the Aussie 7's Rugby team and the Australian Gymnastic teams.
Demi currently works at Sydney Sports Medicine clinic for Functional Food Solutions and at the Australian Institute of Sport where she services a range of athletes and individuals from young development athletes and weekend warriors through to elite Olympians and master athletes.
INTEREST AREAS
Weight loss and improving quality of life for men and women
Muscle mass gain and body composition change
Sports performance nutrition including supplement advice, event preparation, RED-S, rehab injury management and making weight.
Gut health issues
Nutrition for children and adolescents
Mindful eating and behavioural change
Disordered eating and eating disorder management
For all appointment bookings and enquires with Demi Patterson please phone their office on (02) 8323 6500.