Blog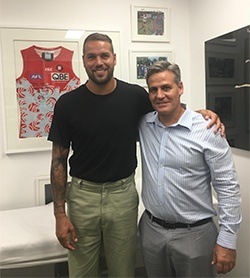 Franklin Does the Honours for Clinic
Star Sydney Swans forward Lance Franklin this week opened the club's official doctor's clinic in the heart of Moore Park. The Stadium Clinic has played a central role in getting Sydney's players on the ground week in and week out since being founded at Moore Park in 2008, but the rebuild of Allianz Stadium has seen the practice relocate to the Byron Kennedy Hall in the Entertainment Quarter.
---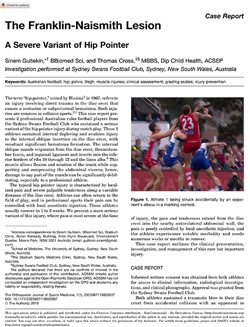 Research Publication Co-Authored by Dr Tom Cross
The Franklin-Naismith Lesion
A Severe Variant of Hip Pointer
This case report presents 2 professional Australian rules football players from the Sydney Swans Football Club who sustained a serious variant of the hip pointer injury during match play.
Dr Tom Cross and Sinem Gultekin outlines the clinical presentation, investigation, and management of this rare but important injury.

Read more
---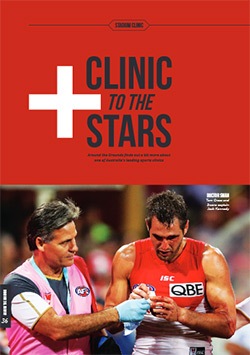 The Stadium Sports Medicine Clinic isn't your average facility. It's the place that looks after some of Australia's biggest sporting stars including Buddy Franklin and Israel Folau.

Read more
---