Rob Wallis
Physiotherapist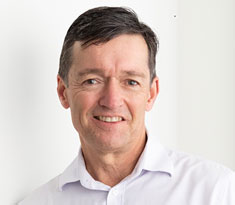 Rob Wallis is a Physiotherapist with 37 years of experience. He graduated from Sydney University (Cumberland College) in 1985, working most of his physiotherapy life in the private domain treating sports and spinal problems. In 1997, Rob was awarded the APA Sports Title in recognition for his experience in the Sports Physiotherapy realm.
After 23 years of running his own sports practice, a personal journey with migraine led to change in career focus. Life changing specialised treatment helped Rob overcome his own migraine battle, and then, with practical success treating his own patients and further study in the area, Rob became increasingly interested in head-related dysfunction, such as headaches, migraine, vertigo and concussion.
This led to the launch of Sydney's first Headache and Migraine Centre, in 2011. Since then, with his increasing involvement in research and further study, Rob has meshed his Sports Physiotherapy experience together with his headache experience to offer a specialised service for Concussion patients. Now, as a CCMI (Complete Concussion Management Inc) Registered Practitioner, Rob provides expert care for many concussion patients.
With the opening of Sydney Concussion Centre in 2019, Rob provides expert care for both acute concussion patients and those suffering from Persistent Post-Concussion Symptoms. The Eight Domains of Concussion are assessed for patients and a structured treatment approach is developed, based on assessment findings.
Assessment areas include:
Vestibular system, Ocular motor control, neck dysfunction, Balance issues, Autonomic dysfunction, Cognitive concentration, Post traumatic migraine, and Anxiety/mood disorders.
Rob's interest in Concussion has further developed a passion for Concussion Education and Prevention. He offers seminars to health care professionals and community groups to clear up the many misconceptions associated with concussion. Baseline testing for athletes is becoming an important inclusion in health protocols at both community and professional athlete levels.
Rob is currently available for bookings at The Stadium Clinic on Tuesday mornings. He also consults in his city CBD and Kogarah offices.
For all bookings and enquiries, contact:
Sydney Concussion Centre
1800 Concussion | 1800 266 287
www.sydneyconcussioncentre.com.au
Sydney Headache & Migraine Centre
1300 My Headache | 1300 694 323
www.headacheandmigraine.sydney