Caitlin Edmonds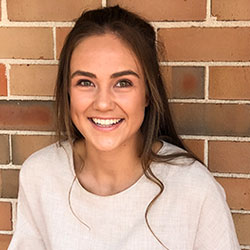 APD (Accredited Practising Dietitian)
AN (Accredited Nutritionist)
EXSS (Exercise and Sport Scientist)
Caitlin is a dual-qualified Exercise Scientist and Dietitian who enjoys combing her knowledge of food, nutrition and exercise to enhance health, wellbeing and performance for all her clients. She brings her experience from a wide range of Dietetics areas to approach each client in a unique and individualised way.
Caitlin graduated with a Bachelor of Exercise and Sport Science and Master of Nutrition and Dietetics from The University of Sydney. Throughout her professional career, Caitlin has and continues to work in private practice with a variety of clients including busy corporates, weight loss, chronic disease management, adolescents and athletes. Caitlin has also been involved in the delivery of nutrition programs at various elite sporting teams in Sydney, including the A-League, Academy Netball and AFL.
Through these experiences, Caitlin has been able to foster valuable skills in individualising nutrition and exercise plans to enhance the performance, recovery and overall health for her clients.
Caitlin became a Dietitian because of her fascination for the role of food in health. She is motivated by the opportunity to empower clients to take ownership of their health. Through a compassionate, honest and consistent approach, Caitlin loves to see clients engage in their own learning of nutrition and ability to make positive choices around health and performance.
In her spare time, Caitlin loves to play sport (particularly netball and AFL), head to the gym or walk the Sydney coastlines. In true Dietitian style, she also loves to cook and eat delicious food.
For more information about Caitlin, please see her website www.thehealthymillennial.com.au
Interest Areas:
Improving energy and health for men and women.
Healthy and sustainable weight loss.
Young adult, adolescent and children nutrition (education and skill development).
Muscle mass gain and body composition management.
Sport and performance nutrition (including supplement advice, event preparation, nutrition plans, RED-S, injury rehabilitation and management).
Nutrition for children and adolescents.
Anti-inflammatory diets and auto-immune disease management.
Chronic disease prevention and management.
PCOS.
Disordered eating and eating disorder management.