Dr Matt Lyons
Knee Surgeon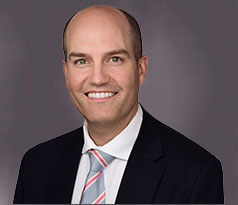 Dr Matt Lyons is a nationally and internationally renowned Orthopaedic surgeon, specialising in joint replacement of the knee and hip, as well as arthroscopic sports knee surgery.
Dr Lyons graduated from the University of New South Wales in 2000 with Honours in Exercise Physiology and completed his Orthopaedic Training in Sydney in 2009. Following this, he completed multiple subspecialty Orthopaedic Fellowships at world leading institutions both locally and internationally. Matt was mentored by Dr Mervyn Cross OAM and Dr Michael O'Sullivan in Arthroscopic and Arthroplasty surgery of the knee and hip at The Mater Hospital and North Sydney Orthopaedics and Sports Medicine Centre (NSOSMC). Subsequently, Dr Lyons spent 2010 and 2011 at University Hospital at the London Health Sciences Centre in Ontario, Canada, which is an internationally recognised centre of excellence. Here, he undertook subspecialty training in Primary and Revision Arthroplasty of the Hip and Knee.
Upon return to Australia in 2011, Matt commenced private practice at NSOSMC and public work at Dubbo Base and Hornsby Hospitals. He continues to service regional NSW at Dubbo and Mudgee.
Dr Lyons is a partner of North Sydney Orthopaedic Research Group. NSORG has a collective ethos of producing high quality, clinically important research of orthopaedic conditions of the hip and knee. This has resulted in multiple, peer reviewed articles and book chapters, with invitations to speak nationally and internationally. Matt is currently engaged in a number of implant development projects for knee and hip replacements, to improve patient function, pain control and longevity.
Matt is an active member of:
Australian Knee Society (AKS)
Arthroplasty Society of Australia (ASA)
Australian Orthopaedic Association (AOA)
International Society of Arthroscopy, Knee Surgery & Sports Medicine (ISAKOS)
American Association of Hip and Knee Surgeons (AAHKS)
American Association of Orthopaedic Surgeons (AAOS)
Surgical Areas of Interest
Sports Knee Surgery
Arthroscopic Knee Surgery
Anterior Cruciate Ligament (ACL) Reconstruction
Patellofemoral Reconstruction (MPFL)
Knee Osteotomy (Realignment) Surgery
Joint Replacement Surgery
Total Knee Replacement
Partial (Unicompartmental) Knee Replacement
Revision Knee Replacement for failed, painful or infected prosthetic joints
Total Hip Replacement
Revision Total Hip Replacement
Robotics and Computer Assisted Technology
For all appointments and enquiries, please call (02)9409 0543.
Main Office address:
Mater Clinic
Ground Floor, Suite G.02
3 Gillies Street
WOLLSTONECRAFT NSW 2065
(Entry/Parking via Mater Hospital entrance – Rocklands Road)
P: 02 9409 0520
M: 0428 887 897
F: 02 9012 0501