Dr Tom Cross
Sport & Exercise Physician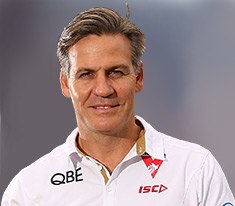 The role of the Sport & Exercise Physician is to obtain an early accurate diagnosis and thereafter discuss the best treatment options with the patient.
Sports medicine problems are most commonly injuries to the musculoskeletal system but also may involve medical illnesses that trouble active individuals such as asthma, fatigue, infectious diseases, concussion etc.
Sports medicine patients cover the spectrum of life from very young children to the frail elderly. The patients vary from being sedentary adults who get injured at work or home to full-time elite/professional athletes.
The Sport & Exercise Physician aims to return the patient to their former level of function as soon as practically possible. The Physician should share the patients' love of sport and exercise and try to enable them to make a safe return to their activity.
Dr Tom Cross has practised sports medicine for the past 20 years and during that time successfully completed 5 years of specialist post-graduate training in sport & exercise medicine and gained fellowship to the ACSEP (Australasian College of Sport & Exercise Physicians, (https://www.acsep.org.au/).
Prior to specializing in sports medicine Dr Cross gained a broad medical experience working as a Resident Doctor for 3 years in the NSW public hospitals, including 1 year specialising in paediatrics at the New Hospital for Children (Westmead) where he gained a Diploma in Child Health.
Dr Cross has broad sports medicine experience caring for recreational athletes (adults and children), musculoskeletal injuries that occur at work or home, elite/professional athletes and also military personnel.
Further information is available on his website at www.tomcross.com.au
His abbreviated CV includes:
2019 Consultant Doctor for NBA in Sydney: USA versus Canada and Australian Boomers.
2019 Keynote speaker at the Northern Lights Conference, Scandinavia
2016-2020 Head Doctor of Sydney Swans Football Club
2016 "NRL Rookie TV series Channel 9" Head Doctor
2015 Consultant Doctor to Les Miserables musical performing in Sydney
2014-2015 Assistant team Doctor for the Sydney Roosters Rugby League Club
2014 Liaison Doctor to Arizona Diamondbacks and Los Angeles Dodgers Baseball in Sydney
2012-2019 Consultant Doctor for Cirque du Soleil performances in Sydney (Kurios, Kooza, Totem and Ovo).
2012-2015 Queensland State of Origin NRL Assistant Team Doctor
2012-2015 Melbourne Storm Rugby League: Assistant Team Doctor Sydney games
2011-2017 Sydney Swans Football Club: Junior Swans Academy Consultant Doctor
2008-2011 Canberra Raiders Rugby League: Assistant Team Doctor Sydney games
2005 Sydney Swans Football Club: Assistant Team Doctor
2004-2017 Medical reviewer British Journal of Sports Medicine
2004-2017 Honorary Doctor North Bondi SLSC
2004-2020 Consulting in Sports Medicine, Sydney
2004-2016 Australian Rugby Union Wallabies: Medical room doctor: Sydney Test matches
2004-2014 NSW Waratahs Rugby Union: Assistant Team Doctor
2003-2015 Consultant Sports Medicine Doctor to the Royal Australian Navy Clearance Divers at HMS Penguin.
2002-2003 Consulting in Sports Medicine, Canberra
2001-2003 Consultant in Sports medicine to Royal Military College, Duntroon, ACT
2001 Australian Institute of Sport, ACT, Fellowship in Sports Medicine
2000 Volunteer Sports Doctor (Sydney Olympics and Paralympics)
1998-2000 Sydney Swans Football Club: Assistant Team Doctor
1997-2000 Sports Medicine Registrar consulting in Sydney
1997 Team Doctor for Manly Rugby League Juniors
Other sports medicine coverage includes: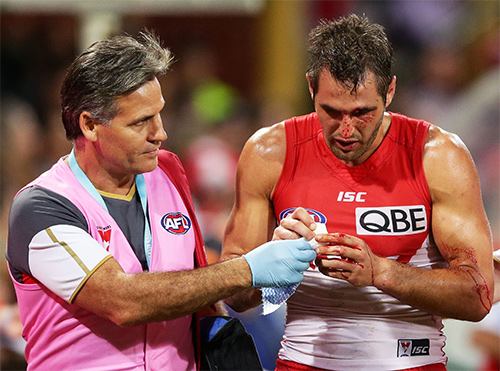 Sydney FC Soccer, San Diego Chargers NFL, Australian Men's Water Polo Team tour of Europe, Australian Swimming Championships Team Doctor, NSW Institute of Sport Accredited Medical service provider, Harvard College American Football team, The Kings School Rugby, The Shore school Rugby, Wests Tigers rugby league, NZ Warriors rugby league, ACT Brumbies Rugby, Sydney Kings Basketball, Canberra Cannons Basketball, World transplant games, Australian Multi-disability games, Locum Doctor in Alice Springs for RFDS.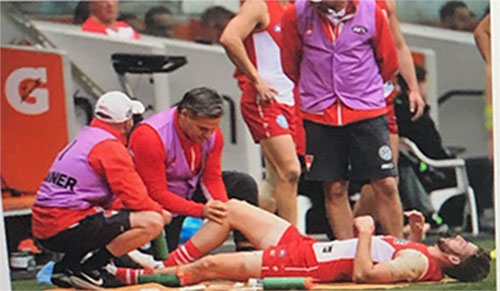 Dr Tom Cross caring for Sydney Swans premiership winning (season 2012) player, Alex Johnson, just after Alex tragically sustained a season ending knee injury.
Dr Cross has several journal publications
Publications
The Franklin-Naismith Lesion
Headache in Athletes
Rotator cuff problems in sport
Exposure to Diagnostic Ionizing Radiation in Sports Medicine
Exercise-associated Muscle Cramps
Diagnostic imaging: radiation exposure and safety considerations
Medical considerations in Child Athletes
Musculoskeletal considerations in children
Sports Injuries in Children
Medial meniscal cyst as a cause of painful erosion of the tibial plateau
Sports Injuries in children. Medicine Today. 2007 June; 8(6): 32-41
Rotator cuff problems in sport. Medicine Today. 2006 Nov; 7(11): 75-79

The accuracy of MRI in predicting recovery and recurrence of acute grade one hamstring muscle strains within the same season in Australian Rules football players.
J Sci Med Sport. 2004 Jun; 7(2): 248-58.
Acute quadriceps muscle strains: magnetic resonance imaging features and prognosis. Am J Sports Med. 2004 Apr-May; 32(3):710-19.
Exposure to diagnostic ionising radiation in sports medicine:assessing and monitoring the risk. Clin J Sport Med. 2003 May; 13(3): 164-70.
"Silent" transverse patellar fracture following anterior cruciate ligament reconstruction. Arthroscopy. 2001 Nov-Dec; 17(9): 997-9.
Sports Medicine Lectures

Around The Grounds Article

Distal Avulsion of the Semitendinosus Tendon

Rotator Cuff Problems in Sport

Sports Injuries in Children

A Classification of Sporting Injuries

Groin Pain in Athletes

Acute Hamstring strains

Triathlon Talk

Acute Quadriceps Muscle Strains - MRI features and prognosis
For all appointment bookings and enquires with Dr Tom Cross please phone their office on (02) 8323 6500.
You will need to have the FREE Adobe Acrobat Reader installed on your system to view this document. Download the Reader by clicking on the Acrobat icon below.