Dr Matthew Morgan
Registrar Sport and Exercise Physician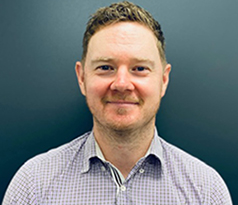 Dr. Matthew Morgan is currently undergoing specialist medical training in the field of Sports and Exercise Medicine through the Australasian College of Sports and Exercise Physicians. He was awarded his medical degree (with honours) in 2013 through the University of Notre Dame, Sydney. Before Sports Medicine training, Matthew worked for a number of years as an Orthopaedic Registrar within the NSW public health system and in a previous life, was a Physical Education teacher in Brisbane. He has completed a Graduate Certificate in Sports Medicine through the University of Queensland and is working towards a Masters of Sports Medicine.
Matthew enjoys working with both amateur and elite athletes and sporting teams in the diagnosis and treatment of a vast array of musculoskeletal injuries and conditions. He is currently the Assistant Medical Officer at the South Sydney Rabbitohs and has enjoyed this role since 2018. Matthew is also the Medical Officer for the Rabbitohs junior pathways teams. Matthew has been the doctor for many representative rugby league teams since 2018 including the men's and women's Indigenous All Stars, the Samoan rugby league team, the Australian Schoolboys rugby league team, the Australian Junior Kangaroos rugby league team and the Prime Minister's XIII women's rugby league team, who travelled to Fiji in 2019. Other sport coverage includes surfing, beach volleyball, netball, tennis, motor racing and endurance events.
Matthew has an interest in the diagnosis and treatment of all acute and chronic musculoskeletal conditions. He is proficient in the use of ultrasound guided corticosteroid injections, platelet-rich plasma injections and extracorporeal shockwave therapy.
In 2016, Matthew published an article in the American Journal of Sports Medicine on survivorship of anterior cruciate ligament grafts in the adolescent population under the guidance of Dr. Leo Pinczewski.
Matthew enjoys triathlon, gym training and spending time with his fiancé and their newborn son.
His appointments are made with our reception team by phone on (02) 83236500 or email reception@stadiumclinic.com.au